Add Value to Your Home With a Wooden Privacy Fence
Wooden Privacy Fence adds value to your home and creates a sense of seclusion for outdoor living spaces. It also helps to keep children and pets safe by providing enclosed areas for playtime and family bonding.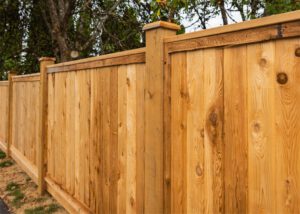 A wooden fence can be painted any color you like. Test your paint on a small patch and allow it to dry overnight before proceeding with the rest of your project.
A fence can add a lot of value to your home, especially if you opt for a wood privacy fence. It can help you keep wild animals away from your property, stop your kids and pets from running off into the street, and provide privacy for your yard. Plus, it's a great way to increase the overall value of your home when you decide to sell it.
A well-maintained wooden privacy fence can add between $1,673 and $3,983 to the market value of your house, depending on the height and material. This is because many homebuyers are looking for this type of fence to provide them with privacy and safety for their children and pets. Additionally, it can add curb appeal to your home and make it look more inviting.
When deciding to install a privacy fence, you should consider several factors, including the cost and installation time. In addition to the cost of the materials and labor, you'll also need to factor in site prep, which includes grading or leveling the area, putting in footings and posts, and laying any drainage systems needed. You can choose from different types of fencing materials, but wood is a popular choice because it provides a natural look that buyers love.
You can also customize your fence to meet your aesthetic preferences by choosing paint options and lacquers. There are also a number of style options available, such as picket, paddock, board on board, shadowbox, and split rail. In general, all-wood fences are less expensive than vinyl ones because they require fewer materials. However, it's important to talk to a fence contractor about what the best option is for your budget.
Even if you aren't planning to list your home anytime soon, it's always a good idea to speak with an expert about what type of fence would add the most value to your home. This will ensure that you get a return on your investment, both financially and emotionally. Plus, it'll give you peace of mind that your fence will serve its purpose for years to come.
Increased Privacy
If you want to ensure that your family and pets can relax in peace, a wooden privacy fence is a great option. It is an effective way to keep trespassers off of your property and can prevent unwanted eyes from peeking into the yard. It also helps protect your home from vandalism and crime by making it harder for people to see inside.
Wooden fences come in a variety of styles, so you can choose the right look for your home and backyard. Some popular options include slatted fences, lattice fences, and post-and-rail fences. They can be stained in a wide range of colors to complement the existing design of your property and enhance the natural beauty of your landscape. Some wood fencing is treated with environmentally friendly stabilizers and preservatives to protect against insects and other hazards.
Unlike other fences, wooden fences are constructed from a series of individual boards that can be easily replaced if they become warped or damaged. This makes them a cost-effective option for those looking for a durable solution. Additionally, wooden fences can be easily installed by a professional without the need for extensive construction or structural work.
Many homeowners find that a wood privacy fence adds significant value to their home. This is because a good-quality wooden fence is able to increase the privacy and security of your yard, which can be difficult to achieve with other fencing types. Additionally, it is more attractive than many other fencing options and can be easily customized to fit your unique style.
The privacy and seclusion that a wooden fence provides can make your backyard one of the most enjoyable areas to spend time in. It can give you the space to relax, play with your kids or pets, and entertain guests without worrying about neighbors peering over into your yard.
A high-quality wooden fence is an excellent investment for any homeowner. It can help protect your children and pets, keep trespassers out of your backyard, and boost the resale value of your home. The best part is that it can be customized to fit your unique preferences and budget.
Increased Safety
A good wooden privacy fence can be a great deterrent for thieves and other unwanted trespassers. Not only is it difficult to climb, but it also provides a physical barrier between your property and the neighboring one. It is important to keep in mind that your fence must be well maintained to continue to be effective.
In order to ensure your fence's longevity, it is essential to choose the right type of wood and carpentry techniques. For example, cedar and redwood are more rot-resistant than pine, but they may need to be treated more frequently to prevent damage from moisture.
Generally, a good-quality wooden fence will last 15 to 20 years if it is properly maintained. However, it is important to take into account the cost and aesthetics of your fence when making a decision. There is no one-size-fits-all solution when it comes to choosing the materials and design for your fencing, but the right mix of strength, longevity, and aesthetics can help you make the best choice for your home.
Wooden fences are an excellent way to improve the overall look of your home, which can increase its resale value. Besides that, they offer several other benefits, such as increased privacy and safety. You can find a variety of wood fence styles, such as stockade, picket, lattice, and post-and-rail. Each style has its own unique look and adds to the curb appeal of your home.
If you are thinking of installing a wood privacy fence, it is advisable to consult an expert. They will help you select the right wood, carpentry techniques, and hardware for your fence. They will also give you tips on how to maintain your wooden fence for a longer period of time.
To improve the security of your wooden fence, you can paint it with anti-climb paint. However, it is essential to note that this will not only affect the appearance of your fence but can also rub off on people who contact it. In addition to this, you can plant thorny plants outside your fence to further deter would-be trespassers.
Increased curb appeal
A wooden privacy fence is a beautiful addition to your home. It creates a great first impression for visitors and can make your yard more attractive. You can also add more curb appeal to your home by putting a "for sale" or "open house" sign beside the fence. This can help you sell your home faster.
Many homeowners choose wood fencing because it is affordable and aesthetically pleasing. It comes in many different styles and can be built to suit any style of home. It can be stained or painted to achieve the desired look. The type of wood used also makes a difference in cost and durability. Cedar is a popular choice for fences because it has unique properties that make it resistant to rot and insects. Other wood options include western red cedar, white cedar, or treated pine.
Adding a wooden privacy fence can increase the curb appeal of your home, especially if it is designed well and maintained properly. It can create a lovely outdoor space where you and your family can relax without worrying about neighbors peeking over your shoulder or children playing in the backyard. This added peace of mind can significantly increase your quality of life.
If you're thinking about buying or selling your home, a beautiful wood fence may be just what you need to boost its value. Consult with a local fence contractor to determine the best options for your property. They can also help you find a fencing material that suits your budget and needs.
If you're looking for a trusted fence installer to install your wooden privacy fence, ask your real estate agent for recommendations. Or, you can do your research online by checking out a company's record, references, and customer reviews. Be sure to hire a licensed and reputable contractor who can provide you with the best value for your money. A professional can guide you through the process and ensure that your new wood fence is safe and secure. They can also help you with zoning requirements and other details to make the process as simple as possible.
fence companies
fence company
fence contractors
fence installation
fence repair
privacy fence